HEIMAT by Waris Dirie
Brands /
HEIMAT by Waris Dirie
Waris Dirie is an icon – as a supermodel, bestselling author, human rights activist and artist, she embodies female empowerment on all levels. We combine her strength and sense of aesthetics with our innovative boutique gym expertise to create the unique studio and fitness concept in the heart of Paris.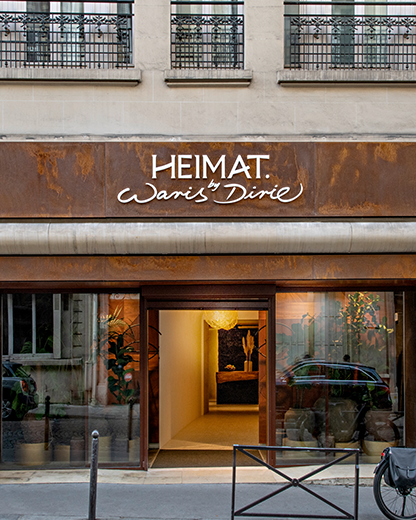 Private Member Club with mit exclusiv events
PROUD FEMALE FITNESS, HEIMAT by Waris Dirie exclusively speaks to women who are looking for a place that harmonizes body and mind. The first HEIMAT studio in Europe offers programming that focuses on a strong private community and goes far beyond that of a pure fitness studio. A permanent art exhibition as well as regular cultural and iconic events are an integral part of the Private Member Club. Membership can be applied via the website.
HEIMAT by Waris Dirie

HEIMAT by Waris Dirie

HEIMAT by Waris Dirie

HEIMAT by Waris Dirie
Training for body, mind and soul
In our training concept, finely tailored boutique fitness classes meet a state-of-the-art gym: Whether solo on the best equipment or free weights, in group classes or working out 1:1 with personal trainers – we offer our members 360-degree support for every goal and training level. In addition to the advanced fitness program in the studio, the wellness area and the accompanying cultural program bring body, mind and soul together holistically.